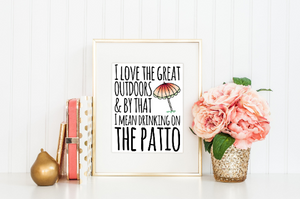 Do you love to hike, camp, and do all the ::waving hands:: sportsball things?

No? Us either! (But we mix a mean margarita!)

Share your love of not outdoorsing with one of your favorite people by sending them this 8" x 10" print … which you can hang in the great indoors (or on the patio!). Perfect as a housewarming or hostess gift!
Printed on thick white archival quality paperstock.
If you're in the mood for a quick download, check out this version: https://www.craftandcolor.co/products/printable-humorous-home-patio-art-print.